LIGHT UP THE WAY
Our desire for Bible Baptist is to share the Gospel of Jesus Christ.
OUR BELIEFS
We believe the Bible, God's Word, and teach it to be without error.
SERMON MEDIA
Download, listen, or watch all of our past and current sermons.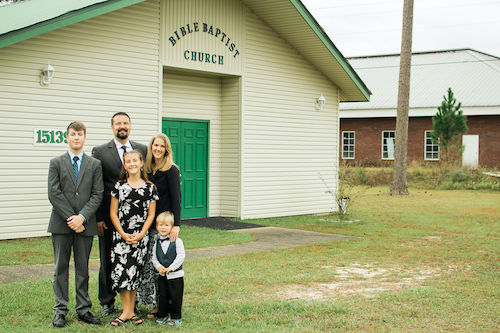 Welcome to Our Church!
Welcome to Bible Baptist Church of Freeport. I am Pastor Markus Scruggs, and my family and I are so glad you are interested in finding out more about our church. I've been pastoring at BBC since 2017 and look forward too many more years serving the Lord and sharing His truth here in Freeport. My strongest desire is to know God and His character through the study of His life-changing Word, spread the Gospel of Jesus Christ, and honor Him through authentic, Christ centered worship. Here at BBC, we strive to do all things by His power and for His glory by loving Jesus and others and standing for truth. Please feel free to explore and learn more about our church family.
Our Mission
Our purpose here at Bible Baptist Church is to fulfill what is known as the Great Commission that Jesus gave to His disciples before His ascension.
Read More
God's Free Gift
There are a lot of people who are very sincere about following their religion. There are many people who try to live good moral lives. That is admirable, but it can't take care of the sin problem. Our only hope is in Jesus Christ.
Read More
New Here?
We would love to have you visit. We have put together a few answers to common questions so you can know what to expect when visiting Bible Baptist Church.
Read More
Contact Us
If you have any questions or concerns, feel free to send us a message. We would be happy to hear from you, and willing to answer any questions you may have.
Read More
Service Times
---
Sunday School - 10:00 am
Sunday Morning - 11:00 am
Sunday Afternoon - 2:00 pm
Wednesday Service - 6:30 pm